Learning, inspiration and long lasting friendships
To strengthen the relationship between our communities through art. To share and appreciate the work of our local artists, which is an expression of our culture. To exchange ideas and expand artistic opportunities.
The Arts and Culture Exchange Program with Bariloche, originated in 2014 as an initiative by Roaring Fork Valley artist, Missy Prudden, and Bariloche artist, Paula Fischer, both of whom still play a key role in the program.  Every year we have a local Aspen artist travel to Bariloche and/ or we host an artist from Bariloche. During the exchange the artists conduct classes and talks, show their artwork and meet with other local artists within the community they are visiting. We are thankful to The Art Base (Basalt), The Red Brick Center for the Arts (Aspen), and the Asociación Artistas Plásticos Bariloche for supporting this program.
"Bariloche and the Roaring Fork Valley share the attribute of extraordinary landscapes. Though different in several ways, it is an essential element embodying the partnering of talented and fantastic people living and working 6,000 miles apart, sharing ideas, cultures and professions. I am so honored to be part of this program and look very forward to its continued success and having artists from Bariloche come and be hosted by our exceptional community"– Deborah Jones, visual artist, Basalt, CO- Bariloche Arts and Culture Exchange, September 2022.
Past participating artists
Roaring Fork Valley: Missy Prudden- Dave Durrance- Mikaela Liotta- Genna Moe- Reina Katzenberger- Deborah Jones
Bariloche: Paula Fischer- Valeria Fiala- Ingrid Roddick- Cristina Villafañe & Marisa Di Giambatista (La Maroma, music)- Barbara Drausal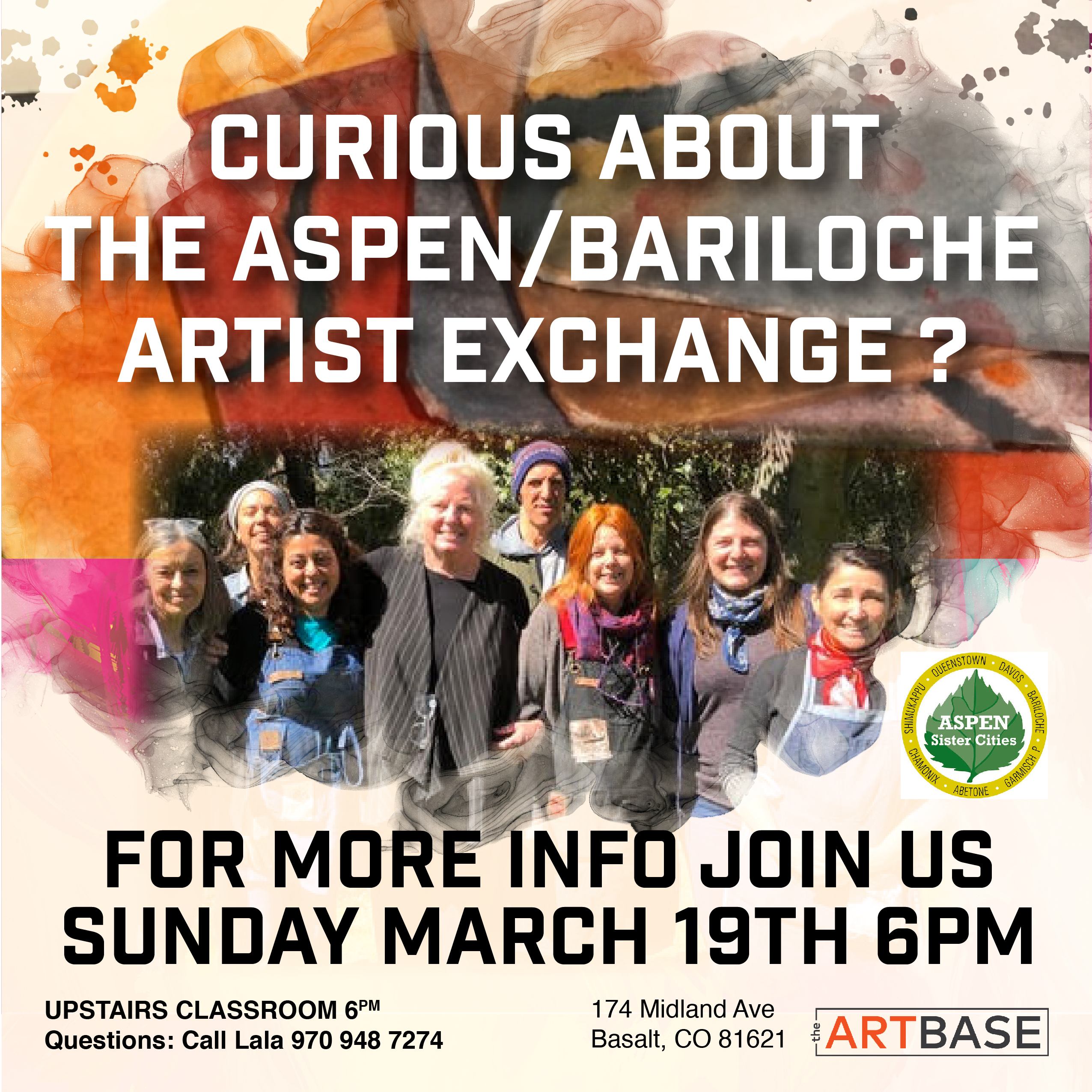 Please join us in celebrating the growing relationship between the artist community of both the Roaring Fork Valley and Bariloche,...
read more →
March 11, 2023